The Best Criminal Defence Lawyer In Edmonton
Darin H Slaferek, Criminal Lawyer Serving Edmonton
Darin returned to university following his employment with a utility company in 1996. He graduated from the University of Lethbridge with Great Distinction in 1998. He continued his post-secondary education and graduated from the University of Alberta law school in 2001. After articles with a civil firm, he joined Tatarchuk Olson in 2002, practicing primarily criminal defence. Two years later, he joined Engel Law Office for one year and continued his criminal defence practice. Currently, Darin continues his practice in Edmonton, keeping his focus on criminal defence work, overseeing and handling all criminal cases at Slaferek Law.
Darin appears regularly at all levels of court and has argued before the Supreme Court of Canada. Also, he appears in courthouses located all across Alberta, Saskatchewan, British Columbia and the Northwest Territories.
Darin is on the Board of Directors of the Parkinson Association of Alberta. He is a past President of the Western Canadian Disabled Fishing Association, past Director of the Canadian Paraplegic Association, and a past Director of the Edmonton Gun Club.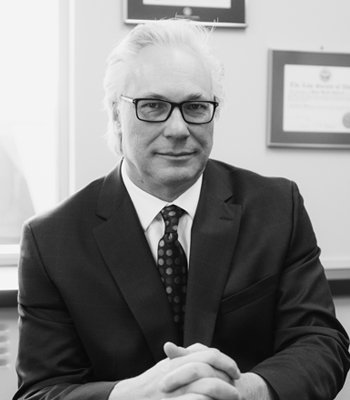 "The good lawyer is not the man who has an eye to every side and angle of contingency, and qualifies all his qualifications, but who throws himself on your part so heartily, that he can get you out of a scrape."
- Ralph Waldo Emerson
Preserve your rights, and
contact Darin H. Slaferek
Providing a dedicated focus on criminal law, practicing ethical, effective, and efficient solutions to serve the best interests of our clients.