Darin H. Slaferek, Criminal Lawyer Serving Edmonton And Surrounding Areas
Darin returned to university following his employment with a utility company in 1996. He graduated from the University of Lethbridge with Great Distinction in 1998. He continued his post-secondary education and graduated from the University of Alberta law school in 2001. After articles with a civil firm, he joined Tatarchuk Olson in 2002, practicing primarily criminal defence. Two years later, he joined Engel Law Office for one year and continued his criminal defence practice. Currently, Darin continues his practice in Edmonton, keeping his focus on criminal defence work, overseeing and handling all criminal cases at Slaferek Law.
Darin appears regularly at all levels of court and has argued before the Supreme Court of Canada. Also, he appears in courthouses located all across Alberta, Saskatchewan, British Columbia, and the Northwest Territories.
Darin is on the Board of Directors of the Parkinson Association of Alberta. He is a past President of the Western Canadian Disabled Fishing Association, past Director of the Canadian Paraplegic Association, and a past Director of the Edmonton Gun Club.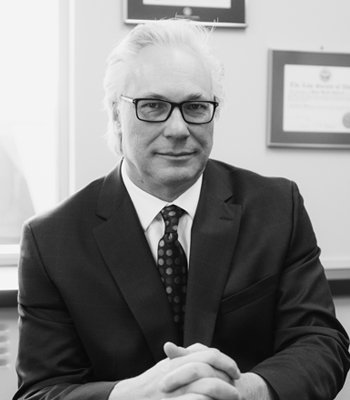 "The good lawyer is not the man who has an eye to every side and angle of contingency, and qualifies all his qualifications, but who throws himself on your part so heartily, that he can get you out of a scrape."
- Ralph Waldo Emerson
Our Mission
At Slaferek Law, our mission is to provide a client-centred approach to criminal defence that ensures high-quality representation and exceptional service. We are dedicated to safeguarding the rights and best interests of each client we serve, offering a robust defence strategy tailored to their unique circumstances.
Our entire team of criminal defence lawyers is committed to delivering superior criminal defence to every client. We understand that facing criminal charges can be a daunting experience, with potential consequences that extend beyond the courtroom.
Whether you are accused of a minor offence or a serious crime, you can rely on Slaferek Law to provide you with in-depth legal analysis, clear guidance, and persuasive representation.
Our Values
We are guided by a set of core values that define who we are as a criminal defence law firm and how we approach our work. These values form the foundation of our commitment to excellence and the unwavering dedication we have for our clients.
Integrity
We uphold the highest standards of integrity in everything we do. Our clients can trust us to provide honest, transparent, and ethical legal representation. We believe that integrity is the bedrock of a strong attorney-client relationship and essential to achieving favourable outcomes.
Client-Centric Approach
Our clients are at the heart of everything we do. We understand that each client and their situation is unique, and we tailor our strategies to meet their specific needs. We actively listen to our clients, empathize with their concerns, and strive to provide personalized attention and support throughout the legal process.
Advocacy
As criminal defence lawyers, we are fierce advocates for our client's rights and interests. We are passionate about protecting the presumption of innocence, ensuring fair treatment, and safeguarding our client's constitutional rights.
Compassion & Empathy
We understand the stress, anxiety, and emotional toll that criminal charges can have on individuals and their families. That's why we approach every case with compassion and empathy. We strive to create a supportive and non-judgmental environment where our clients feel heard, understood, and valued.
Knowledge & Expertise
We believe in the power of knowledge and the importance of continuous learning. Our team stays up-to-date with the latest developments in criminal law, legal precedents, and courtroom strategies. Maintaining a deep understanding of the law provides our clients with well-informed advice and effective representation in all kinds of offences.
Our Process
At Slaferek Law, we have developed a comprehensive process to guide our clients through their criminal defence cases. With our expertise and attention to detail, we ensure that each step is meticulously executed to protect our client's rights and achieve the best possible outcomes.
Initial Interview: We understand the client's background and goals to tailor our strategies. Legal counsel saves clients from attending docket court, except during trials.
Bail Rights and Representations: We protect clients' right to reasonable bail by navigating the judicial system skillfully.
Event and Disclosure Review: Our experienced criminal defence lawyer reviews disclosed evidence thoroughly, identifying weaknesses in the Crown Prosecutor's case for a strong defence.
Witnesses' Statements: We analyze statements and challenge witness credibility to strengthen the defence.
Docket Court Appearances and Trial Date: We handle administrative court appearances, optimizing efficiency. We schedule trial dates or preliminary examinations based on clients' best interests.
Resolutions: We evaluate and negotiate early resolution offers to secure the best outcome for clients.
Election and Plea: We guide clients in making crucial decisions about the trial direction and plea entry.
Preparing for Trial: As expereinced criminal defence lawyers, we prepare clients thoroughly for trial or preliminary examination, ensuring confidence in the court.
The Trial: We navigate the courtroom effectively, handling surprises, submissions, and cross-examinations.
Sentencing and Appeal: We participate in sentencing discussions and assist with appeals to uphold clients' rights.
Preserve Your Rights By
Contacting Darin H. Slaferek
We specialize in criminal law, delivering ethical, effective, and efficient legal solutions that prioritize the best interests of our clients.