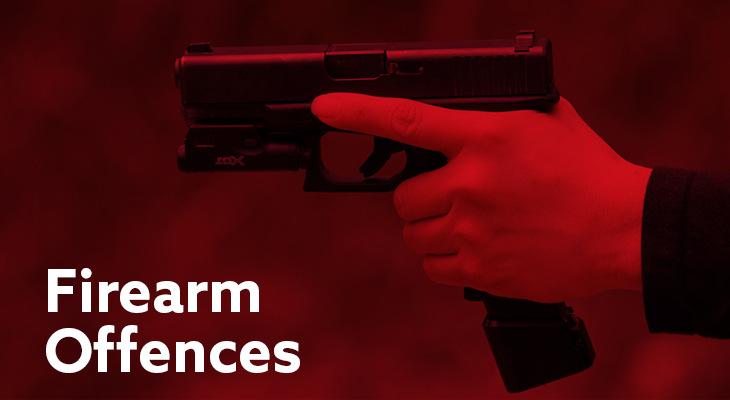 It's legal for licensed civilians to own a firearm in Canada. However, there are certain limitations and restrictions on their usage. Guns are sometimes used to assault, murder, rob, and harras people. This is why the Canadian government imposes strict limitations on the ownership of firearms.
In the Criminal Code of Canada, firearm offences are treated as serious charges. If you're charged with a firearms offence, make sure to consult a good criminal lawyer in order to obtain the right legal advice to adequately defend your case.
Simply put, a firearm is an object capable of causing serious bodily injuries or death. The term firearm is officially defined as "a barrelled weapon from which any shot, bullet or other projectiles can be discharged and that is capable of causing serious bodily injury or death to a person". The Criminal Code and the Firearm Act address issues related to possession, storage, usage, and trafficking of firearms. It classifies firearms as: non-restricted, restricted, or prohibited.
Prohibited firearms
There are some types of firearms that you can't legally own unless you own the firearm before it becomes prohibited. For example, you might not legally own tasers and handguns designed to discharge a 25 or 32 caliber cartridge or handguns less than 105 mm in length. Automatic weapons capable of firing bullets in rapid succession or sawed-off shotguns are also prohibited objects. Some prohibited firearms include those weapons that can be converted into an automatic firearm without replacing any part in less than 10 minutes.
Restricted firearms
A restricted firearm is not necessarily prohibited and has a barrel of less than 470 mm in length. Firearms designed to be fired when reduced to a length of less than 600 mm by telescoping and folding are also restricted weapons.
Individuals may transport, display or store restricted firearms according to the applicable laws and regulations. As a Canadian citizen, you can own a restricted weapon provided that you obtain a license as described in the Firearm Act.
Non-restricted firearms
As the name suggests, non-restricted firearms can be used for hunting and sports. Sporting rifles are a common example of non-restricted firearms. Shotguns and rifles that are neither restricted nor prohibited can be used for recreational purposes. However, it's necessary to obtain a license and meet all the requirements mentioned in the Firearm Act.
The unlawful use of firearms
Police officers are required to test the muzzle velocity to determine whether or not an object qualifies to be called a firearm. It becomes critical to test the weapon that was used in a criminal offence. Posting a firearm with an intention to cause bodily harm or careless use of a firearm can lead to criminal charges.
If you have been found using a prohibited or restricted firearm, various charges can be laid: possession of an unauthorized firearm, possession of a prohibited firearm with ammunition, possession for the purpose of trafficking, etc.
If you or someone you know has been charged with a firearms offence, seek proper legal guidance.
About Slaferek Callihoo
We're a team of proven and highly experienced criminal lawyers in Edmonton, specializing in all kinds of firearm offences. We have what it takes to effectively present your case and help you avoid a criminal record. To discuss your situation further, feel free to give us a call today.